My husband does not like cooking programmes so I usually don't get to watch any in the evenings, except he quite likes Mary Berry and Paul Hollywood Bake Off so he agreed to the Easter baking programme this week. All through the Hot Cross Bun section - he asked have you got that ingredient? Yes, we have all that in the cupboard. Can you do that? Yes. Hang on, no, I haven't got that cutting blade thing, always wanted one but never found one in the kitchen shops. Oh dear, won't be able to make Hot Cross Buns like those then........ (Relief)
This morning, on my return from my annual blood test, a parcel from Amazon with a blade. Bother, now shall have to stop hiding from the rain and watching cooking and go and make some buns. Can they be any worse looking than these basic ones from the supermarket?
Can I achieve anything like these? Now that I have all the ingredients and equipment? will try over the weekend! I used to be able to knock out trays of Chelsea buns for the kids on a wet Sunday when they were little.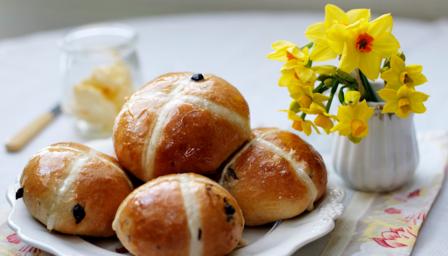 Electricity usage monitoring
By the way the SMART meter readings are proving most interesting. It took 4p of electricity to do a light (30 Min) wash. We have a new machine with a good rating. Electric shower is about 6p a time.
A day of baking and cooking a hot lunch and a full evening meal, fridge/freezer fairly full, one load of coffee in percolator, one load of washing, two showers, and normal TV, radio, half an hour on computer, phone charging/hub and things on standby came to £1 for the day. We could see how an easy 10 to 20p savings could be achieved each day without stress.
The dreaded greenhouse build continues - all frame work done including fixing to concrete, fitting window vents and double doors. Just the glass to do. Glass has arrived in 10 boxes, none of which are labelled in any way, not even in the printed panel that says
"Contents:.....".
So we have a lovely plan with labelled panes showing different sizes and positions but no way of knowing in which of the 10 boxes each set of A, B, C. etc are in!! Grr......